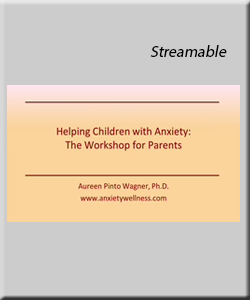 Helping Children with Anxiety: Streamable Workshop for Parents
Regular price $14.99 Sale
Does your child: Worry too much or need a lot of reassurance? Ask the same questions over and over? Insist on doing things perfectly or get very upset about making mistakes? Get nervous or shy around others? Show reluctance to try new things? Seem intense, reactive and easily upset over little things? Countless parents struggle to find ways to help their children with these challenges.
Anxiety is the most common emotional problem in children. Serious anxiety can prevent them from learning, making friends and having fun. But the good news is that, with early recognition and timely treatment, up to 80% of them can successfully learn to manage anxiety.

In this practical, information-packed workshop, Dr. Aureen Wagner will provide, in about an hour, a valuable overview of anxiety and advice on parenting. She discusses:
Normal fears and worries
How children may show anxiety
When anxiety becomes a problem
The many faces of anxiety: Worry, separation anxiety, school refusal, perfectionism, social anxiety; meltdowns and explosiveness
Red flags and early warning signs
How anxiety affects children at school
What causes anxiety
What makes anxiety worse: Parenting Traps
What makes anxiety better
Cognitive-Behavioral Therapy: Scientifically-proven treatment
The three things that help conquer anxiety
The do's and don'ts of parenting
What you can do to help your child
Raising brave kids
Please note that the information and techniques offered in this workshop should not be used as a replacement for consultation, assessment or treatment by a qualified mental health professional. If you are concerned about your child, please consult with a qualified professional. If your child is already in treatment, please do not discontinue treatment without consulting with your treatment provider.
Streaming video

Available to watch for two weeks from the date of purchase
You will receive an email with a link to the video

Approximate running time: 54 minutes

14 days to access the content after order is processed. Please see Terms and Conditions below. 
Terms and Conditions
This material is copyright protected. The purchase of this material is for the sole educational viewing by one qualified individual. Links to the material are not to be shared with other individuals without prior written authorization from Lighthouse Press, Inc. Sharing a link to the material with another individual or individuals would constitute a violation of this purchase agreement.  Link sharing and excessive streaming, as determined solely by Lighthouse Press Inc., from one or more than one IP address shall be grounds for termination of the material streaming. Due to the nature of downloadable and streaming material, this product is not eligible for refund once the link to the material has been sent to the customer. Exceptions to this refund policy include lengthy technical difficulty on the part of Lighthouse Press Inc. or any of its affiliates involved in the delivery of the material (e.g., Shopify, Sky Pilot, etc.).
About the Author
Aureen Pinto Wagner, Ph.D. is a clinical child psychologist, expert in the treatment of anxiety, and international speaker. She specializes in cognitive-behavioral therapy (CBT), and has developed the child-friendly Worry Hill® approach to making CBT accessible to youngsters. Dr. Wagner served as an Adjunct Associate Professor of Psychiatry at the University of North Carolina at Chapel Hill School of Medicine. She is also a member of the Scientific and Clinical Advisory Board of the International Obsessive Compulsive Disorder Foundation and a member of its Pediatric Subcommittee.
Dr. Wagner established The Anxiety Wellness Center in 2002 to provide effective treatment for children, teens and adults with anxiety. Prior to relocation to North Carolina in 2010, Dr. Wagner was Clinical Associate Professor of Neurology at the University of Rochester School of Medicine & Dentistry since 2003, and Assistant Professor of Psychiatry since 1991. In 2007, she was voted Outstanding Psychologist of the Year by the Genesee Valley Psychological Association, Rochester, NY.
In 2011, Dr. Wagner was awarded the Self-Help Book Recommendation for providing the highest level of evidence-based best practices, from the Association of Behavioral and Cognitive Therapies, for all her self-help books: Worried No More: Help and Hope for Anxious Children, Up and Down the Worry Hill: A Children's Book about Obsessive-Compulsive Disorder, and What to do when your Child has Obsessive-Compulsive Disorder: Strategies and Solutions. The latter two books, along with her highly-acclaimed resource for professionals, Treatment of OCD in Children and Adolescents: Professional's Kit, comprise the only integrated set of resources for children with OCD, their parents, and their therapists. Dr. Wagner has also developed a suite of resources for professionals who work with anxious youth, including Worried No More: Teaching Tools and Forms on CD, and CD's of her live workshops for parents and school professionals.
Dr. Wagner is a sought-after international speaker who presents workshops for parents, school professionals and clinicians. She offers videoconferencing consultation and workshops for professionals.  Dr. Wagner received her education at St. Agnes College, the University of Iowa, Yale University Child Study Center and Brown University.