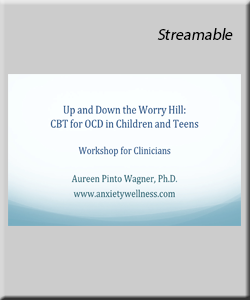 Up and Down the Worry Hill: CBT for OCD in Children and Teens, Streamable Workshop for Clinicians
Regular price $159.00 $129.99 Sale
*This workshop is open only for licensed mental health and allied healthcare professionals. To register, please see below.
Learn from the expert! Dr. Aureen Pinto Wagner is a sought-after international speaker who has been training clinicians to treat anxiety and OCD for over 25 years. 

Comments from participants at Dr. Wagner's workshops for clinicians:
Excellent! Lots of useful information, especially the explanation of CBT and the Worry Hill

 

idea.

Wonderfully complete and detailed. A great learning experience.

Well organized, informative, met goals—Dr. Wagner was a very engaging presenter!
Dr. Wagner's skill and knowledge were terrific. She clearly knew the material and made things very interesting as well.
Dr. Wagner's approach to OCD treatment really clicked for me--so logical and practical, and gave me a so much confidence in treating OCD.
Streamable Workshop: Approximate run time: 6 hours (divided into 6 parts). Available to you  for unlimited viewing for 14 days after purchase (please see Terms and Conditions below). Listen and learn at your own pace from the comfort of your office or home. View Powerpoint slides as Dr. Wagner speaks; pause, rewind, or replay as you choose.  Use the detailed handout to follow along or take notes, and save it as an ongoing resource.
Workshop Description

OCD can be a chronic and debilitating disorder that may result in serious social, behavioral, and learning problems for children and teens. With effective CBT interventions, up to 80% can successfully manage OCD. However, it is estimated that the majority of children and teens with OCD do not receive CBT, due in part to a shortage of clinicians with expertise in treating OCD. With a vast variety of symptoms, OCD can be baffling and complex to assess and treat. Clinicians often find it difficult to access in-depth clinical training in CBT for children and teens.
Dr. Wagner provides you with an opportunity to enhance your skills and effectiveness in treating OCD. She will provide you with solid grounding in the theory and application of exposure-based CBT. Using a wealth of information and examples, she will share CBT strategies to treat various forms of OCD including contamination, unwanted intrusive thoughts (violent and sexual), scrupulosity, and just-right OCD, along with cleansing, checking, reassurance-seeking, confessing, repeating, and mental rituals.
Using her innovative and child-friendly Worry Hill® CBT approach, Dr. Wagner brings together practical, ready-to-use tools and CBT techniques with clinical pearls that can quickly be put to use in your practice.  She will share strategies for building treatment-readiness, collaborating with parents, working with reluctant children and relapse prevention. Topics covered include:
Part 1                                                                                             
The clinical picture of OCD in children and teens
Tricky aspects of OCD: What's normal, what's OCD? 
Mental rituals, unusual obsessions, inconsistencies in OCD
OCD and school refusal; red flags for OCD at school
What's OCD, what's not? OCD and comorbid conditions
Part 2                                                                                             
The fuel for OCD: The Cycle of Escape and Avoidance
The CBT model, goals and structure
Exposure and Response Prevention (ERP)
Evidence for efficacy of ERP with adults and children
Emotional Processing Theory and Inhibitory Learning Theory
Challenges in engaging children and teens
Challenges for clinicians; clinician's reluctance about ERP
Part 3                                                                                             
Child-friendly CBT: Up and Down the Worry Hill
Phase I: Assessment and Treatment Plan
Phase II: Four steps to Cultivating Treatment Readiness
       Stabilization, communication, persuasion, collaboration
Phase III: The RIDE:  Exposure and Response Prevention
Phase IV: After the RIDE: Long-term recovery; proactive relapse prevention
Part 4                                                                                             
Collaborating with parents; cultivating readiness
Focus areas for parents
Realistic expectations: Reduce dropout
Effective parenting strategies
What not to do; reducing accommodations
Part 5                                                                                             
CBT for contamination and cleansing
CBT for intrusive thoughts
Part 6                                                                                             
CBT for scrupulosity
CBT for just-right OCD
Managing treatment reluctance
When treatment is "not working"
The therapist's toolbox
The art of CBT
Registration
Step 1. Please click the ADD TO CART button at the top of this page.
When you complete your online order (name, address, credit card information, etc.), you will receive an email that says "Access Content." However, because this workshop is only for licensed clinicians, you will need to complete Step 2 before the "Access Content" button is live.
Step 2.  Please send an email to Dr. Wagner at awagner@anxietywellness.com
Subject line: Up and Down the Worry Hill Workshop for Clinicians
Please include the following in the body of the email:
Name, Degree, Licensure (profession and states), Occupation/job title
Once approved (usually in about 1-3 business days) your credit card will be billed. When you receive notification of the credit card charge, your "Access Content" button will be live.
Your credit card is only billed when you are approved. 
Terms and Conditions
This material is copyright protected. The purchase of this material is for the sole educational viewing by one qualified individual. Links to the material are not to be shared with other individuals without prior written authorization from Lighthouse Press, Inc. Sharing a link to the material with another individual or individuals would constitute a violation of this purchase agreement.  Link sharing and/or excessive streaming, as determined solely by Lighthouse Press Inc., from one or more than one IP address shall be grounds for termination of the material streaming. Due to the nature of downloadable and streaming material, this product is not eligible for refund once the link to the material has been sent to the customer. Exceptions to this refund policy include lengthy technical difficulty on the part of Lighthouse Press Inc. or any of its affiliates involved in the delivery of the material (e.g., Shopify, Sky Pilot, etc.).
 About the Author
Aureen Pinto Wagner, Ph.D. is a clinical child psychologist, expert in the treatment of anxiety, and international speaker. She specializes in cognitive-behavioral therapy (CBT), and has developed the child-friendly Worry Hill® approach to making CBT accessible to youngsters. Dr. Wagner served as an Adjunct Associate Professor of Psychiatry at the University of North Carolina at Chapel Hill School of Medicine. She is also a member of the Scientific and Clinical Advisory Board of the International Obsessive Compulsive Disorder Foundation and a member of its Pediatric Subcommittee.

Dr. Wagner established The Anxiety Wellness Center in 2002 to provide effective treatment for children, teens and adults with anxiety. Prior to relocation to North Carolina in 2010, Dr. Wagner was Clinical Associate Professor of Neurology at the University of Rochester School of Medicine & Dentistry since 2003, and Assistant Professor of Psychiatry since 1991. In 2007, she was voted Outstanding Psychologist of the Year by the Genesee Valley Psychological Association, Rochester, NY.
In 2011, Dr. Wagner was awarded the Self-Help Book Recommendation for providing the highest level of evidence-based best practices, from the Association of Behavioral and Cognitive Therapies, for all her self-help books: Worried No More: Help and Hope for Anxious Children, Up and Down the Worry Hill: A Children's Book about Obsessive-Compulsive Disorder, and What to do when your Child has Obsessive-Compulsive Disorder: Strategies and Solutions. The latter two books, along with her highly-acclaimed resource for professionals, Treatment of OCD in Children and Adolescents: Professional's Kit, comprise the only integrated set of resources for children with OCD, their parents, and their therapists. Dr. Wagner has also developed a suite of resources for professionals who work with anxious youth, including Worried No More: Teaching Tools and Forms on CD, and CD's of her live workshops for parents and school professionals.
Dr. Wagner is a sought-after international speaker who presents workshops for parents, school professionals and clinicians. She offers videoconferencing consultation and workshops for professionals.  Dr. Wagner received her education at St. Agnes College, the University of Iowa, Yale University Child Study Center and Brown University.