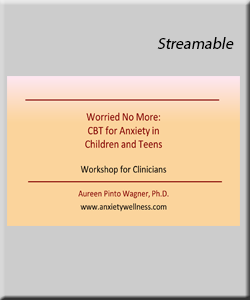 Worried No More: CBT for Anxiety in Children & Teens, Streamable Workshop for Clinicians
Regular price $129.00 $99.00 Sale
*This workshop is open only for licensed mental health and allied healthcare professionals. To register, please see information below. 
Learn from the expert! Dr. Aureen Pinto Wagner is a sought-after international speaker who has been training clinicians to treat anxiety and OCD for over 25 years. She shares her wealth of experience to help you enhance your effectiveness and success in helping children and teens conquer anxiety. 

Comments from participants at Dr. Wagner's workshops for clinicians:
Dr. Wagner was extremely articulate and organized. Her materials were excellent.
Best workshop I have attended in my 27 years as a mental health clinician!
I loved the quality and pace: A lot of information, very interesting, well-organized.

I love the Worry Hill metaphor and the whole treatment approach.
Excellent presenter. I learned how to develop specific hierarchies for anxiety
So comprehensive. She covered many topics, I now have a good handle on treating many different forms of anxiety.
Streamable Workshop: Available to you for unlimited viewing for 14 days after purchase (please see Terms and Conditions below). Listen and learn at your own pace from the comfort of your office or home. View Powerpoint slides as Dr. Wagner speaks; pause, rewind, or replay as you choose.  Use the detailed handout to follow along or take notes, and save it as an ongoing resource.
Approximate run time: 4.5 hours (divided into 5 parts). 
Workshop Description

Anxiety is the most common mental health problem in children, teens, and adults, affecting an estimated 25% of the population. Anxious children and teens may experience serious social, behavioral, and learning problems. Cognitive-behavioral therapy (CBT) can help as many as 80% of these children successfully overcome anxiety. However, it is estimated that the majority of anxious children do not receive CBT, partly due to a significant shortage of clinicians with expertise in CBT. Clinicians often find it difficult to access in-depth clinical training in CBT for children and teens.
Dr. Wagner will begin with a solid framework for understanding anxiety disorders and comorbid conditions, as well as the theoretical foundations of exposure-based CBT.  You will recognize red flags for anxiety and understand what fuels anxiety, especially the Anxiety Triad and Vicious Cycle of Escape. 
In this workshop, Dr. Wagner blends highly effective strategies with clinical pearls gleaned from years of first-hand experience. She developed the innovative and child-friendly Worry Hill® CBT approach that is designed to optimize motivation in children and teens with anxiety. She will share practical, ready-to-use tools and CBT techniques for separation anxiety and school refusal, generalized anxiety, emetophobia, social anxiety, perfectionism, specific phobias, panic, and sleep problems. Dr. Wagner will discuss strategies for building treatment-readiness, collaborating with parents, working with reluctant children, relapse prevention, and challenges in treatment.
Topics include:
Part 1                        
Normal fears across the lifespan
How children and teens express anxiety
What's normal, what's not?
The clinical picture of anxiety in children and teens
Red flags for anxiety
Anxiety and school refusal
Effects of childhood anxiety
Anxiety and related conditions
Part 2                                 
Risk factors for anxiety
The fuel for anxiety: The Anxiety Triad and the Vicious Cycle of Escape
CBT: Evidence and techniques
Emotional Processing Theory and Inhibitory Learning Theory
Challenges in engaging children and teens
Therapist hesitations about exposure
Part 3                                
Up and Down the Worry Hill:  Child-Friendly CBT
Treatment Readiness and four steps to cultivate readiness
Bring down your Feeling Temperature
Five questions to bring down your Feeling Temperature
Part 4                                               
Collaborating with parents; cultivating readiness
Focus areas for parents
Realistic expectations: Reduce dropout
Parenting: Framework and strategies
Raising brave children and teens
What not to do; reducing accommodations         
Managing meltdowns
Part 5                                                                        

CBT for: separation anxiety/school refusal, generalized anxiety, emetophobia, social anxiety, specific phobias, panic, sleep issues
Dismantling treatment reluctance
When treatment is "not working"
The therapist's toolbox
The art of CBT             
Registration
Step 1. Please click the ADD TO CART button at the top of this page.
When you complete your online order (name, address, credit card information, etc.), you will receive an email that says "Access Content." However, because this workshop is only for licensed clinicians, you will need to complete Step 2 before the "Access Content" button is live.
Step 2.  Please send an email to Dr. Wagner at awagner@anxietywellness.com
Subject line: Worried No More Workshop for Clinicians
Please include the following in the body of the email:
Name, Degree, Licensure (profession and states), Occupation/job title
Once approved (usually in about 1-3 business days) your credit card will be billed. When you receive notification of the credit card charge, your "Access Content" button will be live.
Your credit card is only billed when you are approved. 
Terms and Conditions
This material is copyright protected. The purchase of this material is for the sole educational viewing by one qualified individual. Links to the material are not to be shared with other individuals without prior written authorization from Lighthouse Press, Inc. Sharing a link to the material with another individual or individuals would constitute a violation of this purchase agreement.  Link sharing and/or excessive streaming, as determined solely by Lighthouse Press Inc., from one or more than one IP address shall be grounds for termination of the material streaming. Due to the nature of downloadable and streaming material, this product is not eligible for refund once the link to the material has been sent to the customer. Exceptions to this refund policy include lengthy technical difficulty on the part of Lighthouse Press Inc. or any of its affiliates involved in the delivery of the material (e.g., Shopify, Sky Pilot, etc.).
About the Author