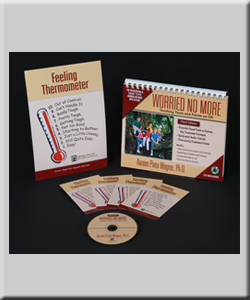 Worried No More: Teaching Tools and Forms (Third Edition)
Regular price $79.95 Sale
For professionals who treat or educate children and adolescents. Designed to be used with Worried No More.
Includes:
Quick-Start Audio Tutorial (with slides)
Complete set of Teaching Tools
Feeling Thermometers small and large
This Third Edition of this popular resource for professionals has been enhanced with even more powerful tools to help professionals put Worried No More into Action. The new Quick-start Audio Tutorial makes getting up-to-speed even faster. The addition of the downloadable files eliminates the need for a CD-ROM drive.  The downloadable files are both PC and Mac compatible.
For professionals who treat or educate children and adolescents: Clinical Psychologists, School School Counselors, Psychologists, Psychiatrists, Social Workers, Family Therapists.
Ideal for group practices, schools, clinics, training programs and institutions.
Powerful Visual Teaching Teaching Tools to Convey Key Treatment Concepts

Quick-start Audio Tutorial (with slides)

Time-saving Treatment Forms
Key Benefits
Improves Communication and Learning


Appealing to Children and Families

Convenient, Easy-to-use

Enhances record keeping
---
 Includes:
Quick-start Audio Tutorial with slides.  Approx. 50 minutes. 
Complete set of 33 Teaching Tools in multiple formats: (easy to use, 8.5"X11"  heavy-stock color flip cards, ready to use Microsoft® PowerPoint® slides and PDF slides).
Four small Feeling Thermometers for client use
One large Feeling Thermometer for therapist use
Ready-to-print and use Worried No More Forms
CD includes: Quick-start Audio Tutorial, Teaching Tools, Worried No More Forms. 
All files on the CD are also available for download at no additional cost. The downloadable files are PDF and mp4 file format for cross platform compatibility.
Forms
Teaching Tools (sample)

- The Feeling Thermometer

- About Anxiety

- Parent-Teacher Log

- The Feeling Thermometer

- Home Behavior Observations

- How Anxiety Gets Worse

- School Behavior Observations

- How Thoughts Affect Feelings

- My Thoughts and Feelings

- How Anxiety Can Make You Think

- My Fear Ladder

- How Anxiety Can Make Your Body Feel

- Exposure Progress

- The Brain and Anxiety

- The Worry Hill Memory Card

- How Anxiety Can Make You Act

- Facing My Fears

- The Vicious Cycle of Escape

 

- What Parents May Naturally Do

 

- 3 Things to Bring Down Your Feeling Temperature

 

- Up and Down the Worry Hill

®

 

- Parenting: The Framework

 

- Appropriate Attention

 

- Calming Space and Calming Actions

 

- Calm Thinking and Bravery

 

- Handling Meltdowns
---
Internet access for downloading the files.
CD for use with PC's only.  Windows® XP or higher, 1.3 GHz or faster processor, 512 MB RAM, 1024 x 768 screen resolution, 320 MB hard-disk space, internet access.
Note: Microsoft® PowerPoint® Viewer software available from Microsoft.com.  Adobe® Reader® software required and available from Adobe.com.
---
Aureen Pinto Wagner, Ph.D. is a clinical child psychologist, expert in the treatment of anxiety, and international speaker. She specializes in cognitive-behavioral therapy (CBT), and has developed the child-friendly Worry Hill® approach to making CBT accessible to youngsters. Dr. Wagner served as an Adjunct Associate Professor of Psychiatry at the University of North Carolina at Chapel Hill School of Medicine. She is also a member of the Scientific and Clinical Advisory Board of the International Obsessive Compulsive Disorder Foundation and a member of its Pediatric Subcommittee.
Dr. Wagner established The Anxiety Wellness Center in 2002 to provide effective treatment for children, teens and adults with anxiety. Prior to relocation to North Carolina in 2010, Dr. Wagner was Clinical Associate Professor of Neurology at the University of Rochester School of Medicine & Dentistry since 2003, and Assistant Professor of Psychiatry since 1991. In 2007, she was voted Outstanding Psychologist of the Year by the Genesee Valley Psychological Association, Rochester, NY.
In 2011, Dr. Wagner was awarded the Self-Help Book Recommendation for providing the highest level of evidence-based best practices, from the Association of Behavioral and Cognitive Therapies, for all her self-help books: Worried No More: Help and Hope for Anxious Children, Up and Down the Worry Hill: A Children's Book about Obsessive-Compulsive Disorder, and What to do when your Child has Obsessive-Compulsive Disorder: Strategies and Solutions. The latter two books, along with her highly-acclaimed resource for professionals, Treatment of OCD in Children and Adolescents: Professional's Kit, comprise the only integrated set of resources for children with OCD, their parents, and their therapists. Dr. Wagner has also developed a suite of resources for professionals who work with anxious youth, including Worried No More: Teaching Tools and Forms on CD, and CD's of her live workshops for parents and school professionals.
Dr. Wagner is a sought-after international speaker who presents workshops for parents, school professionals and clinicians. She offers videoconferencing consultation and workshops for professionals.  Dr. Wagner received her education at St. Agnes College, the University of Iowa, Yale University Child Study Center and Brown University.