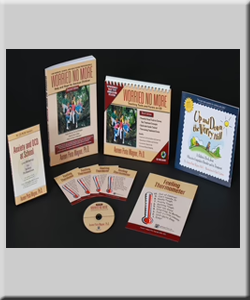 The School Professional's Master Set
Regular price $173.95 $154.95 Sale
The School Professional's Master Set is a popular set of integrated resources for mental health professionals involved in working with children and teens in school settings. Because the language, metaphors, and ideas flow seamlessly between the resources, the child, parent or caregiver, and treatment provider can all approach the treatment process on the same page from the very beginning. 
Attractively priced to encourage the purchase of the "Master Set" versus the individual components.
Includes the following:
Award-winning and ABCT-recommended Up and Down the Worry Hill
ABCT-recommended Worried No More: Help and Hope for Anxious Children
Anxiety and OCD at School: Live Workshop for School Professionals. (PC CD-ROM version only). 
Worried No More: Teaching Tools and Forms (Third Edition). 

 Now includes downloadable files at no additional cost for customers without CD-ROM drives. Downloadable file are both PC and Mac compatible.

Quick-start Audio Tutorial with slides
Feeling Thermometers - small (4)
Feeling Thermometer - Large (1)
About the Author
Aureen Pinto Wagner, Ph.D. is a clinical child psychologist, expert in the treatment of anxiety, and international speaker. She specializes in cognitive-behavioral therapy (CBT), and has developed the child-friendly Worry Hill® approach to making CBT accessible to youngsters. Dr. Wagner served as an Adjunct Associate Professor of Psychiatry at the University of North Carolina at Chapel Hill School of Medicine. She is also a member of the Scientific and Clinical Advisory Board of the International Obsessive Compulsive Disorder Foundation and a member of its Pediatric Subcommittee.
Dr. Wagner established The Anxiety Wellness Center in 2002 to provide effective treatment for children, teens and adults with anxiety. Prior to relocation to North Carolina in 2010, Dr. Wagner was Clinical Associate Professor of Neurology at the University of Rochester School of Medicine & Dentistry since 2003, and Assistant Professor of Psychiatry since 1991. In 2007, she was voted Outstanding Psychologist of the Year by the Genesee Valley Psychological Association, Rochester, NY.
In 2011, Dr. Wagner was awarded the Self-Help Book Recommendation for providing the highest level of evidence-based best practices, from the Association of Behavioral and Cognitive Therapies, for all her self-help books: Worried No More: Help and Hope for Anxious Children, Up and Down the Worry Hill: A Children's Book about Obsessive-Compulsive Disorder, and What to do when your Child has Obsessive-Compulsive Disorder: Strategies and Solutions. The latter two books, along with her highly-acclaimed resource for professionals, Treatment of OCD in Children and Adolescents: Professional's Kit, comprise the only integrated set of resources for children with OCD, their parents, and their therapists. Dr. Wagner has also developed a suite of resources for professionals who work with anxious youth, including Worried No More: Teaching Tools and Forms on CD, and CD's of her live workshops for parents and school professionals.
Dr. Wagner is a sought-after international speaker who presents workshops for parents, school professionals and clinicians. She offers videoconferencing consultation and workshops for professionals.  Dr. Wagner received her education at St. Agnes College, the University of Iowa, Yale University Child Study Center and Brown University.